St Petersburg Ballet Theatre
History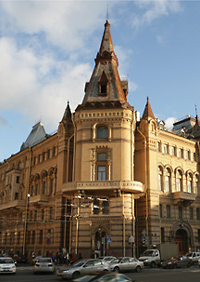 The St Petersburg Ballet Theatre (SPBT) has quickly established itself as one of Russia's leading classical ballet companies. It was founded in 1994 by Konstantin Tachkin who has continued to direct the company over its 27-year history. SPBT is housed in a magnificent studio complex on Liteiniy Prospekt, situated in the heart of St Petersburg, which in Imperial Russia had served as the House of Officers.
This ensemble of sixty dancers is the only major classical ballet company in the world that exists and thrives without reliance on state subsidy or private sponsorship. To be independent of government funding or any major sponsor is a remarkable and unique achievement in the modern age.
Although the company performs frequently in its home city and throughout Russia it also has an enviable reputation for its international touring, giving up to 250 performances each and every year. SPBT tours have ranged over six continents, travelling to Norway, Sweden, Denmark, Spain, Germany, Belgium, The Netherlands, Great Britain, Ireland, France, Italy, Austria, Finland, the USA, Brazil, Turkey, Israel, South Africa, South Korea, Singapore, Australia, New Zealand, Japan, China, Macau and Taiwan.
The Company has a repertoire that includes all the masterpieces of classical ballet: Giselle, Don Quixote, La Bayadère, Les Sylphides, Paquita; Romeo and Juliette and, of course, the Tchaikovsky classics from St Petersburg - Swan Lake, The Nutcracker and The Sleeping Beauty.
The company's sixty professional ballet artists are all either graduates of the world famous Vaganova Ballet Academy in St Petersburg or from one of several other significant Russian ballet schools. Famous dancers of the past now work as ballet masters and mistresses, coaching the company's principals, soloists and corps de ballet: People's Artist of Russia, Lyubov Kunakova; Merited Artist of Russia, Yuri Gumba; and Margarita Kullik are just three of these renowned former star dancers now passing on their knowledge and expertise to today's performers, SPBT is proud to have created many home-grown stars of its own over the past two decades. Among the principals, soloists and character dancers who have come to maturity within the company are artists such as Margarita Avdeeva, Dmitriy Akulinin, Sitora Khismatova, Olga Pavlova, Sergei Fedorkov and others. They represent the kernel of the company's creative achievement as well as the continuing guarantee of its ongoing success.
The sparkling jewel in the company's crown is Irina Kolesnikova whose name alone sells out theatres throughout the world with unvarying regularity. Devotees of ballet, not to mention demanding dance critics, continue to marvel at her outstanding talent. Kolesnikova is flambouyant. She is delicate. She is a true Prima Ballerina Assoluta, the very pinnacle of balletic artistry.
SPBT remains the centre of attention for the world's press, performing as it does in such celebrated theatres as the London Coliseum, the Royal Albert Hall, the Théâtre des Champs Elysées in Paris, the Bunkamura Hall in Tokyo, the National Theatre of Taipei, the National Theatre in Beijing and The Princess Theatre in Melbourne.
The company receives many excellent reviews from ballet critics in major newspapers and specialist dance magazines around the globe. Here is just a small selection of what has been said about SPBT and its star ballerina:
"…the overall pure joy of Kolesnikova's interpretation is not only a true reflection of some of the most beautiful and evocative music Tchaikovsky ever wrote but an affirmation of the power and joy of dance"
Jeffery Taylor, The Sunday Express (UK)
"Kolesnikova is a real artist whose gifts include expressive arms, a pliant torso and a meltingly slow, expansive yet detailed style that draws us right to her…..Kolesnikova is a dream of an Odette."
Donald Hutera, The Times (UK)
"Irina Kolesnikova looks like a princess straight out of Russian fairy tales….This is the first time that the mastery of Russian ballet is being represented not by the ballerinas of the Bolshoi or the Kirov, but by a star from an independent company"
Nina Alovert, Dance Magazine (USA)
"This is a refined, first rate ensemble that cares about all aspects of the staging, combining freshness of expression with academic strictness and respect for the repertoire."
Federica Sassara, Il Gazzettino (Italy)
"… the corps de ballet had the kind of precision movement an audience can get lost in…each leg and arm moved in perfect synchrony. Irina Kolesnikova has limbs that go on forever, and a dramatic style visible from several miles away….her growing status as a world-class ballerina is well founded"
Kelly Apter, The Scotsman (UK)
"Kolesnikova's unique technique is allied with extraordinary acting talent. Her dancing is captivating and ineffable but the inner emotions of her heroines are conveyed not only by her physicality, but also by her expressive eyes and the slight movement of her lips."
Svetlana Rukhlya, Saint Petersburg Diary (Russia)
"This is classical ballet at its very best…Irina Kolesnikova gives a spellbinding performance as Odette and Odile….The standard of the corps de ballet is most impressive."
Pinto Ferreira, The Star (South Africa)
"Irina Kolesnikova conquered the audience with her lovely renditions of the black and white swans….the beauty of her dancing has reached such a level as to take the audience's breath away…"
Khi Ding Khau, United Daily News (Taiwan)
"Seeing Irina Kolesnikova performing Odette-Odile in Swan Lake is one of those rare and beautiful moments of theatre…"
Jenny Stevenson, The Dominion (New Zealand)
"…. The SPBT possesses a star ballerina in Irina Kolesnikova. She is, without doubt, the complete article: exquisite port de bras, great feet and efficient footwork, an elastic back, long, elegant neck and above all a radiant stage presence which shone even when seen from the far side of the cavernous Albert Hall"
Graham Watts, London Dance (UK)
St Petersburg Ballet Theatre
Dear friends! We are pleased to announce our Swan Lake performance on 26.11.2022! Its will take place in St Petersburg at the CSC Arena accompanied by the orchestra. ⠀ We are waiting for the performance, tickets are already on sale.