St Petersburg Ballet Theatre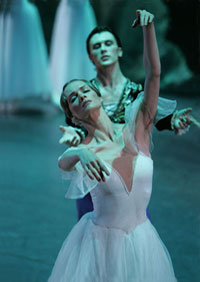 fantastic ballet in two acts
Music: Adolphe Adam
Libretto: Vernoy de Saint-Georges, Theophile Gautier, Jean Coralli
Choreography: Jean Coralli, Jules Perrot, Marius Petipa

SYNOPSYS

ACT I

The scene represents a nice looking valley in Germany. It is the time to celebrate a vintage festival taking place near the house of a peasant girl Giselle. Giselle has fallen in with Albrecht, the Duke of Silezia, who had disguised himself as a peasant huntsman Lois. Using a hut opposite Giselle's cottage to hide his ducal dress, he pays court to the unsuspecting girl. Hillarion, a gamekeeper, also in love with Giselle, suspects the truth about the real origin of his rival and soon finds out that Albrecht is the Duke.
The harvesters return with the last gathering of the grapes and join in a dance of Giselle and Albrecht but Giselle's Mother expresses fear that the passion for dancing may be the death for her delicate daughter who will then fall under the spell of Willises. The peasants are frightened, however Giselle is going on the wine harvest celebration and is finally crowned the Queen of Wine.
The Prince of Courland stops at Giselle's cottage to taste the new wine together with his hunting party. The Prince's daughter Bathilde who is engaged to Juke Albrecht is among them. Hillarion uses the opportunity to unveil the true nature of Lois. The shock is too great for Giselle and she loses her reason and dies.

ACT II

The setting depicts a forest around a pool. Seen on the left is a cross on which the name of Giselle is carved. This is the supernatural world of Willises - the spirits of betrothed girls who were fond of dancing and died in consequence of betrayal of their faithless lovers.
Attired in their bridal dresses, they dance in the moonlight and revenge themselves through decoying of young men who enter the forest. The Willises make the men dance until they fall dead from exhaustion.
Both Hillarion and Albrecht visit Giselle's grave, repenting that they participated in her tragic death. Hillarion has been caught by the Willises and finds no escape but Giselle's deep love has protected Albrecht from the relentless Queen of Willises and her attendants.
With the advent of dawn Willise's power comes to an end and they disappear. Albrecht takes his last leave of Giselle.
St Petersburg Ballet Theatre
Dear friends! We are pleased to announce our Swan Lake performance on 26.11.2022! Its will take place in St Petersburg at the CSC Arena accompanied by the orchestra. ⠀ We are waiting for the performance, tickets are already on sale.